Rector Marek Link selected among Tallinn University alumni of the century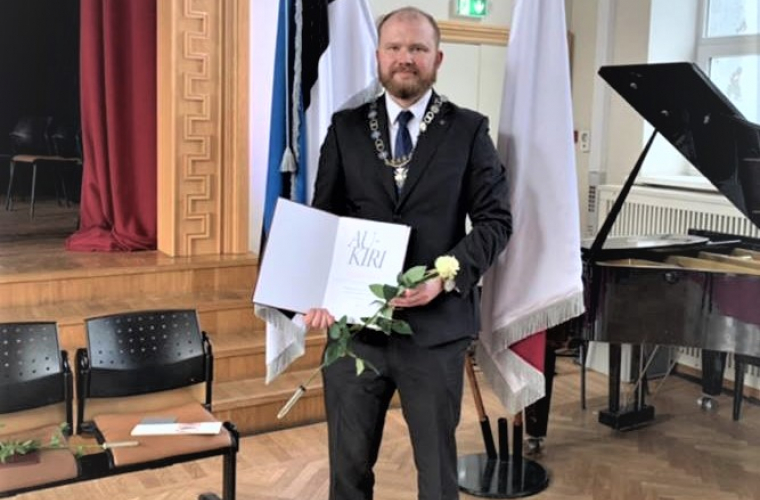 Rector of the Academy of Security Sciences Marek Link was selected among the alumni of the century of Tallinn University along the university's 100th anniversary celebrations.
On Monday 18 March, Tallinn University celebrated their centenary – it was 100 years ago that regular teacher training was begun in Tallinn forming the basis for both educational innovation and the promotion of intelligent lifestyle. In connection with the celebrations, Tallinn University acknowledged its outstanding alumni who have contributed to the development of the Estonian society, culture, education and entrepreneurship. Our rector Marek Link was among those 100 alumni.
"Marek's activities have clearly shown what dedication, humanity and professionalism can do and achieve. He is an exceptional person and an inspiring manager whose leadership skills were evident already during his studies, as a teacher and a trainer as well as in the student council. His Master's studies in Educational Management gave his managerial potential the best possible direction and we are truly proud to see him today as the rector of the Academy of Security Sciences making our country a safer place to live," the Head of Marketing and Communication Kadri Kiigema said about Marek.
Marek is clearly touched by the acknowledgement. "I am truly grateful for the recognition. Perhaps I have made a difference after all and shaped something in my image. The Academy of Security Sciences is one of them, but the development, reputation and influence of the Academy in the society are naturally shaped by our entire team," Marek said upon receiving the acknowledgement.
Ever since its establishment in 1919, Tallinn University with its predecessor and merged institutions has been graduated by around 60,000 alumni. It was a huge challenge for us to choose one hundred among them. Each institute made its own recommendations, similarly the students, Open Academy and other units. The final decision was democratic and largely made by the current institutes and the bearers of the continuity of our predecessors and the merged institutions.
The entire list of the alumni of the century is here: www.tlu.ee/sajandi-vilistlased