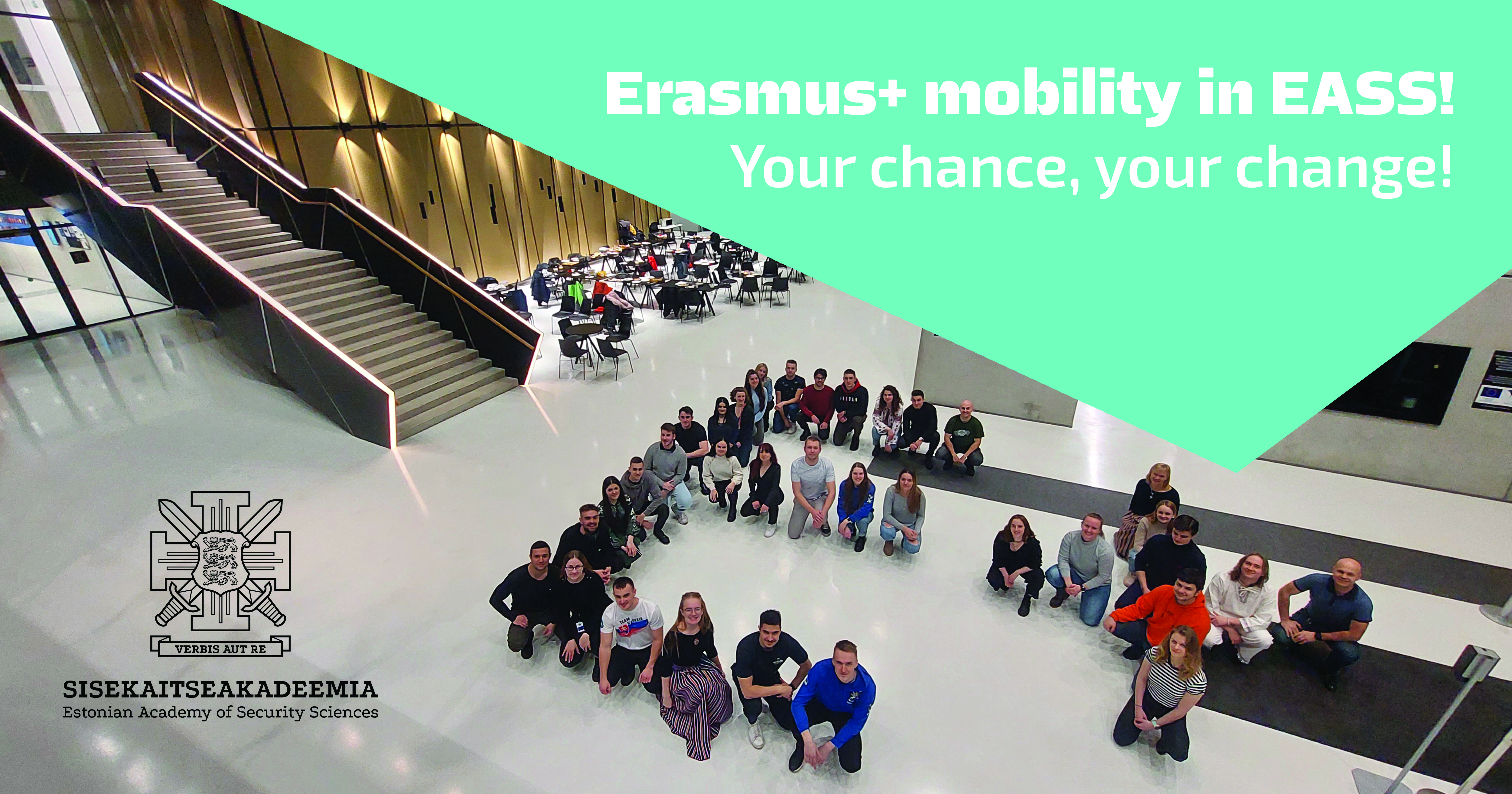 The Estonian Academy of Security Sciences is welcoming nominations for Autumn semester 2023/2024. 
Nomination period: 16 March - 20 April 2023
Deadline for submitting application and Learning Agreement: 5th of May
Exchange students are students who are already enrolled in their home country at a higher education institution that has signed the Erasmus+ programme agreement with the Estonian Academy of Security Sciences. EASS accepts exchange students through the Erasmus+ programme.
Contact the International Relations Office at your university and please be sure that your university has an Erasmus+ exchange agreement with Estonian Academy of Security Sciences. The students can apply to study for one semester and afterward they can transfer the credits obtained to their home institution. 

Home University's International Exchange Coordinator must send nominated students to the International Relations office no later than 20th of April 2023 at the following address: erasmus [at] sisekaitse.ee 

Please send the following information regarding your student(s):
First Name
Family Name
Current E-mail Address
Curriculum/Specialty
Once you are nominated by your home university for exchange studies you should follow the application procedures required by Estonian Academy of Security Sciences.
---
The application procedures
To finalize your application in the Erasmus+ programme you are required to send the following documents to the International Relations Office by e-mail 5th of May:
Application form Fill out the necessary fields, complete the Application Form with your signature. Ask for the stamp and signature of the exchange coordinator of your home university.

Learning Agreement To fill in the learning agreement, see the English subjects offered by EASS and more information about Learning Agreement you can find here. The Learning Agreements should be presented in OLA format. NB! We highly recommend you to take at least 20 ECTS points from the Estonian Academy of Security Sciences.

Copy of Language Certificate - English level at least B2 We expect that your English language proficiency is of an equivalent standard so that you can follow the classes with no problems. Please send us a copy of Language Certificate or signature from your home university that guarantees that you are sufficiently competent in the English language.

Transcript of Records Showing your grades from your home university (in English) 

Copy of passport or ID

Motivational letter We expect to have short overview, who are you, why you would like to study in EASS and what are your interests. 
Once the application and all other documents has been reviewed and approved, the International Relations office will hold the right to conduct an online interview with the applicant and make the final selection. More information will come by email. 
Detailed contacts for documents:
The Estonian Academy of Security Sciences
Eleny Aalde
Foreign Relations Coordinator
E-mail: eleny.aalde [at] sisekaitse.ee
Tel:+372 5224 748
Address: Kase 61, 12012 Tallinn, Estonia