Estonian rescue officers taking the next steps in training Ukrainian EOD technicians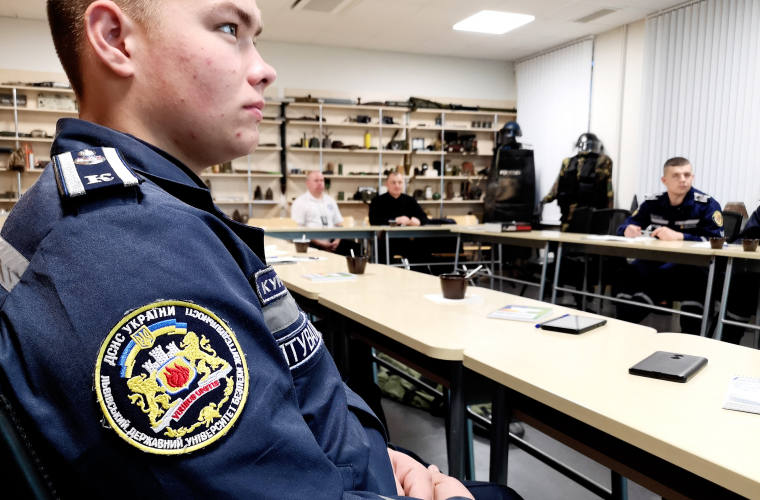 This week on 1-4 April, three members of the work group of the Rescue Board explosives ordnance disposal centre are visiting the Lviv State University of Life Safety in Ukraine in connection with the EASS development cooperation project.
The aim of the current meeting of the project "The Development of the Contemporary Professional Higher Education in the Area of Humanitarian EOD at the Lviv State University of Life Safety" is to discuss the next two trainings this year in Estonia. In addition to the Lviv State University of Life Safety, there will also be meetings with the EOD technicians working at the State Emergency Service and the Police of Lviv Oblast.
According to the Director of the Rescue College Häli Allas, such a training for EOD technicians is one of the most recent ones added to the curricula of the Rescue College. "Considering the somewhat limited volume of work in the given area in Estonia, it is highly important to make use of all the opportunities for developing our trainers and providing them with practice," the Director of the Rescue College stated.
The leader of the cooperation project, the advisor of the Rescue Board explosives ordnance disposal Arno Pugonen said that the cooperation is extremely important and necessary also for the Ukrainian partners. Häli Allas stated that having lecturers who can provide professional training on an international level could be considered an important recognition. "It certainly contributes to the achievement of the academy's aim – to become the best centre for internal security education and research in Europe by 2025," Allas added.
At present, half of the project has been competed with the second part on its way, all activities well on schedule. The development cooperation project includes several trainings in Estonia and in Ukraine, the project group includes instructors and students from Ukraine and the Estonian specialists as their trainers. The first training for the Ukrainian EOD technicians was conducted in Estonia last November.
The main aim of the project is to support the humanitarian EOD department of the Lviv State University of Life Safety by conducting training sessions based on state-of-the-art technology in Estonia. Particular attention is paid to the implementation of international humanitarian EOD standards in the units of the Ukrainian State Emergency Service.
The aim of the cooperation project between the Estonian Academy of Security Sciences and the Lviv State University of Life Safety is to bring together the knowledge and experience of the research and academic staff as well as the experts of the areas of civil protection and the mitigation of the consequences of emergencies and natural disasters.
The project is financed by the Ministry of Foreign Affairs from the development and humanitarian aid funds.